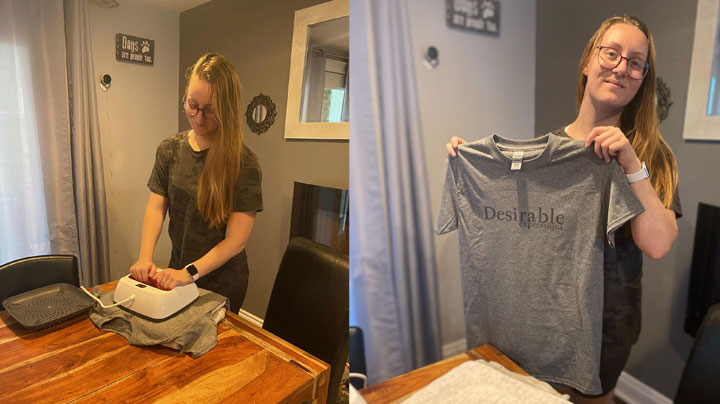 "I just can't say enough how grateful I am for everyone's support, and how overwhelmed I am by the kindness of people"

Drewe Leduc – Owner
August 23rd, 2021
By: Adam Gibeau
Last year Desirable Expressions was a growing side project that new entrepreneur Drewe Leduc was excited about working on and growing. The pandemic had set her up with lots of free time to work on her side hustle. This year Leduc has been able to focus on the work at hand and successfully complete the Starter Company PLUS program offered by the Cornwall Business Enterprise Centre.
What started as a way to pass her time has now expanded far beyond what owner Drewe Leduc thought could happen. Her business Desirable Expressions offers handcrafted earrings, necklaces, and her signature pieces, what she calls her "captivating canvases", "beaded beauties" and "clay creations."
The captivating canvases are what originally brought the business to attention of the public, as the canvases are a mixture of paint and stitching, and true to the name, the captivating part comes from the designs Leduc uses. Many of the canvases feature different takes on the female form. The intimate designs certainly got the reactions that Leduc was hoping for.
"I was just so surprised!" said Leduc. "I couldn't have imagined that getting a little out there with the designs would have gotten so much attention." As she worked more intimate designs into her canvases, she almost immediately saw the demand grow. Leduc hopes to help promote confidence in people and help normalize sexuality by displaying some adult themes in her canvases.
Throughout the year Desirable Expressions has exploded online. After working through the Digital Main Street program Leduc was able to enhance her online presence and retool her online store. These digital enhancements, combined with a strong social media presence, has positioned her well to connect with her clients.
With help from the Starter Company PLUS grant, Desirable Expressions looks to expand their product offerings by upgrading their design capabilities and starting to offer new products such as digital prints, household décor, and a new line of branded clothing.
You can check out their website to see more:
& Make sure follow them on social media to stay up to date with new product launches!